Do you believe in Angels? We definitely do……Although Angels are always near us, looking over us and protecting us, many people rarely know that they are there. Sometimes, Angels will send small signs and signals to let us know that they are near. These signs can be anything from a subtle flash of light, a rainbow on a gloomy day, or even an unexpected, sudden feeling of love and warmth.
However, one of the ultimate signs your Angels are with you is finding a feather. Coming across a feather on your path, or finding a feather in an unexpected place is thought to be a message from the Angels.
Angels are Beings of Light who reside in the higher spiritual dimensions and who are present in the universe to be of service, bringing love and protection.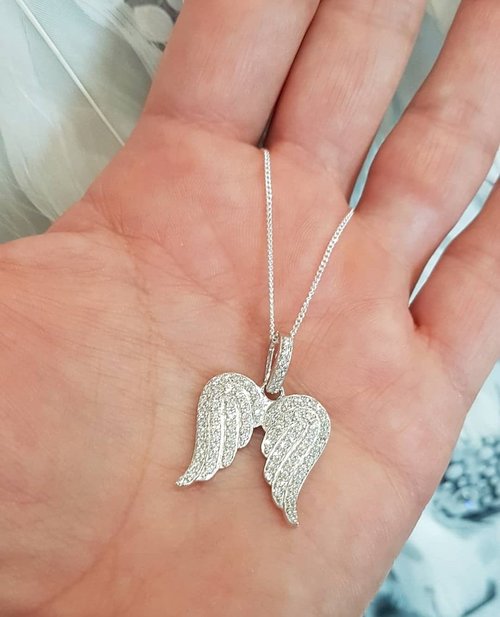 You always have access to angels, and with a simple thought, request or plea you will draw them closer to you.
Angel wing jewellery is very special because it symbolizes a person's belief in the Angelic realm as well as offering protection, affection, love and harmony.
Angels bring hope and happiness, which is exactly what an Angel wing necklace is supposed to do.
A feather appears when Angels are near!
Angel wings remind us that we are never really alone. We are watched over by our guardian angels – and that we can call on our spiritual allies whenever we need help or support. During times of stress, loneliness, confusion, illness, or fear we can remember to call upon the spiritual beings who have a better view of our situation and more wisdom to share with us. This can be a deeply comforting feeling – and it's one that wearing angel wing jewellery helps us remember.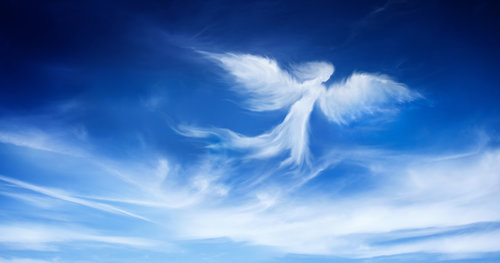 Our special promotion for August is a beautiful silver angel wings pendant set with cubic zirconia on an 18″ sterling silver chain. This pendant usually retails at £49.95 but for a limited time only we will be offering them to you at £25.00!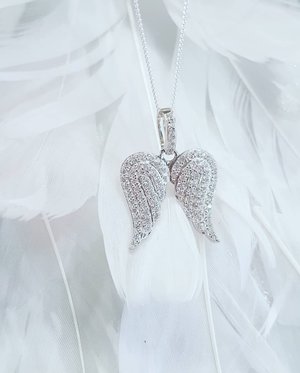 Offer stands only whilst stocks last….don't miss out on yours!
You can purchase them in store or contact us to arrange payment/ postage.

Offer ends 31st August 2018…….