Book your free bespoke jewellery appointment today
MICHAEL FRANK SPECIALISE IN BESPOKE JEWELLERY DESIGN, TRANSFORMING YOUR IDEAS INTO REALITY.


Book a consultation today
Bespoke Jewellery Design
Handmade Jewellery in Essex
Michael Frank Jewellers provides you with a one to one design service, where your bespoke jewellery design can be transformed from thoughts to reality. You will be provided with professional guidance towards the creation of your unique handcrafted piece by an in–house jeweller who will work to your individual budget and timescales to create a stunning piece of handmade jewellery.
The in-house craftsmanship and creativity provides clients with items of excellence as unique as they are, reflecting their personality and ensuring heirlooms for future generations.
At a private consultation for your Bespoke Jewellery Design at their Essex showroom, state of the art 3D technology is used to bring clients ideas to life on screen. This innovative new design system is only available at select jewellery stores across the country and has already become the hot new trend in bespoke jewellery design.
Their bespoke jewellery Essex design service creates items that are unique to you, carefully constructed to create a stunning visual impact without compromising on wearability. At Michael Frank Jewellers, they believe a piece of jewellery should not only look beautiful, but also bring joy to the wearer and an object of admiration to others.
Michael Frank Jewellers are proud to provide this customised bespoke jewellery service in Essex and look forward to meeting you to create your unique jewellery design.
Come and See Us
Arrange a time to pop in store where they will discuss your dream piece of jewellery. Trained staff will discuss your idea, budget and inspiration so that we can get an idea on what you are looking for.
Michael Frank Jewellers make bespoke jewellery design in Essex come to life.
View some examples
Testimonials
Maria Parker

"Today I was looking for 2 lockets. I am a foster carer and two of the girls I have looked after for a year are moving back home today, I wanted to get them a special piece of jewellery and thought a locket would be a great keepsake. The lovely lady who was helping me worked to my budget and really went above and beyond! Thank you so much"
Pete Gearing

"I cannot thank you enough, having been very nervous about leaving my late grandfathers ring with you to be duplicated so that I can wear it everyday I was immediately put at ease with my consult with Michael, collecting the rings (Old & New) today I am amazed to see the craftsmanship and skill in bringing a very tired worn ring almost back from the past. I'm absolutely over the moon. Thank you so much."
Lara Colaco

"I just picked up my wedding ring and just wanted to let Michael know how beautiful I think it is and how much it compliments my engagement. I love it's the same width, the diamonds start and end perfectly to match my engagement, and we can see how much thought and time he put into a difficult shaped ring. Even in the box the shape looks like a heart, which is lovely! Can you pass this on, and we look forward to seeing Jason's!"
Margaret Casey Groves

"For our Grandaughters 18th Birthday we wanted to give her something very special,we visited Michael Frank Jewlers with a collection of my late mothers jewellery and had it transformed into a ring especially designed just for her ,it was very emotional handing the jewellery over but the outcome was truly amazing ,my granddaughters reaction was a memorable one and I know she will always treasure the gift .Thank you Michael Frank for your expertise your Staff are a true credit to you ."
Hannah Bakewell

"Massive massive thank you to everyone at Michael Franks! We got our wedding rings from you and from start to finish the service we received was amazing! Nothing was too much trouble and we love the rings! Would 1000% recommend these lovely people! Thank you again!"
Personal Jewellery Consultations For Wedding & Engagement Rings
We invite clients to come for a personal jewellery consultation when choosing engagement, wedding rings or bespoke jewellery. In a relaxed and private environment clients are able to view our extensive range or have jewellery designed. During this time we can discuss your ideas and what you want to achieve, how much time we have to do it and how much you want to spend. We can then explain to you what it will take to make the idea into a reality. The appointment usually lasts an hour and is completely free of charge and you are under no obligation to order.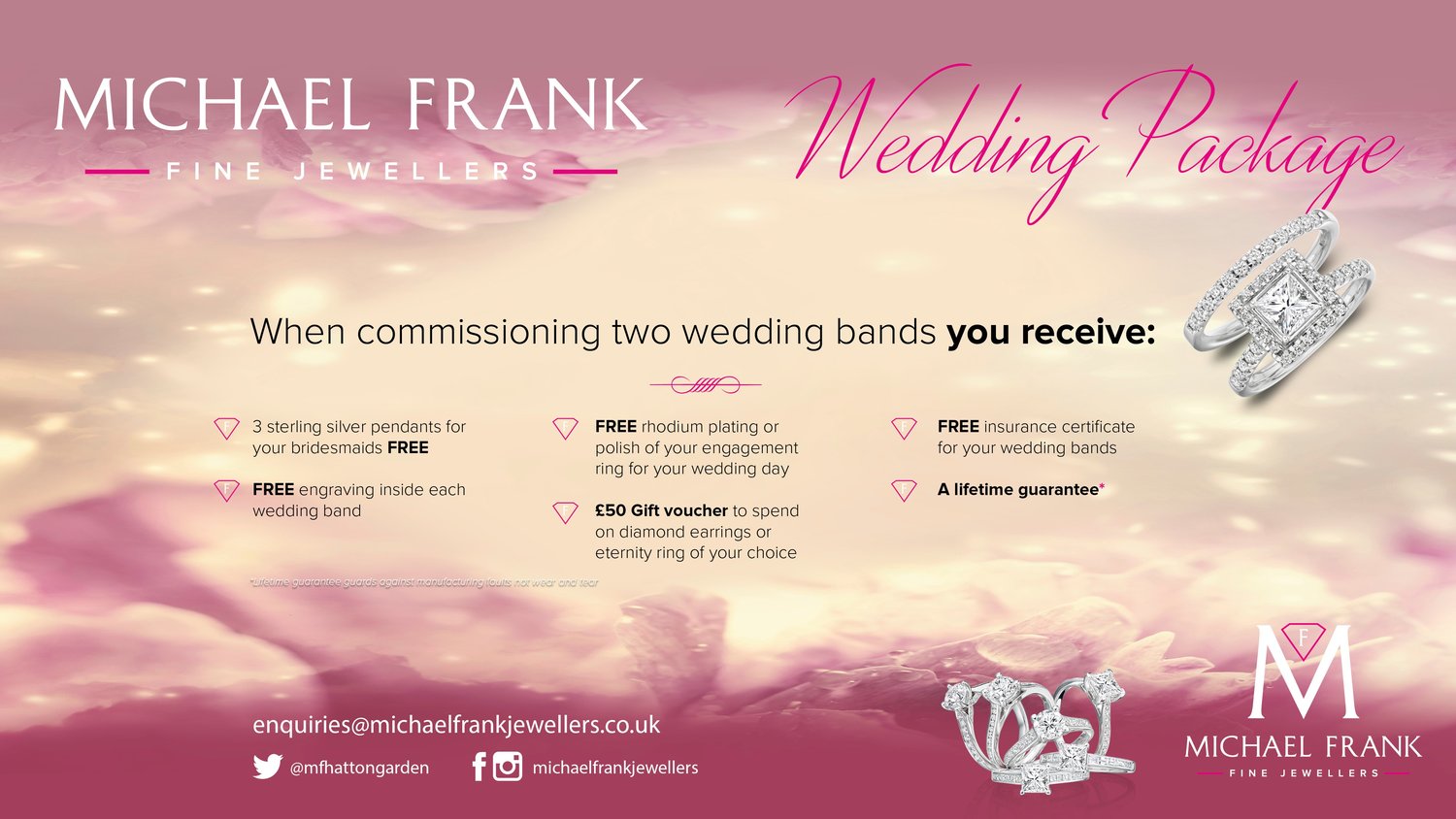 We believe that couples should have a personal and exciting experience when choosing and designing their wedding or engagement rings and be able to talk face to face with a trained and experienced jeweller who will guide them through the process with enthusiasm and ease.
We have a small select front line team who have direct contact with our clients ensuring continuity and peace of mind. The team ensure everyone is made to feel important, confident and benefit fully from the time they spend in consultations.
Our attention to detail does not end at the point of purchase. We operate a comprehensive after sales service. Inviting clients to return and have their jewellery cleaned, maintained or valued.
view some examples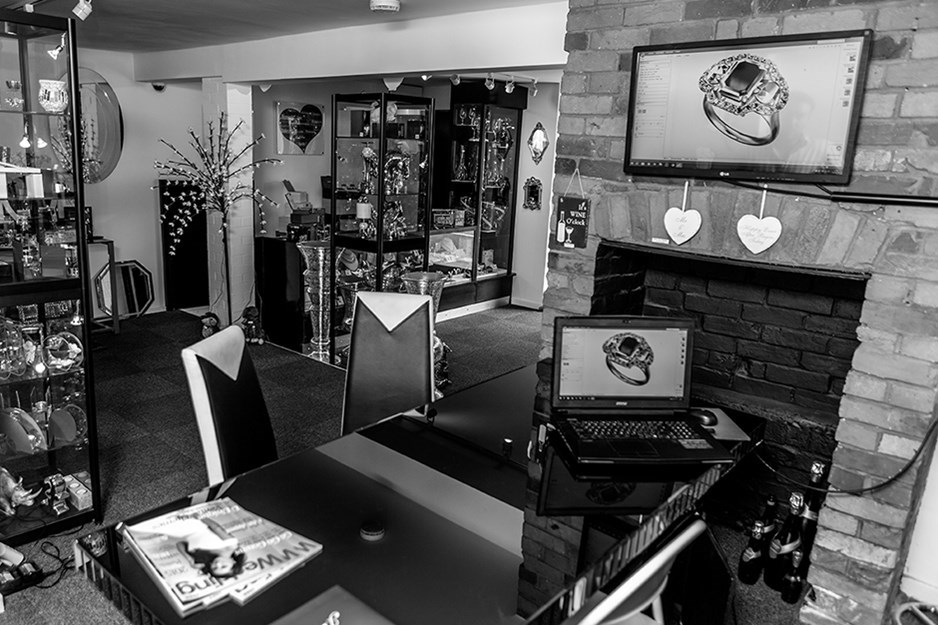 Bespoke Jewellery Design
Bespoke jewellery design is fresh, exciting and unique. Anything is possible!
Working with you we will listen, design and create you a masterpiece. Bespoke jewellery does not have to be expensive. We work within your budget and with you at all times so you are always in complete control.
Let us guide you through the process of creating your bespoke wedding, engagement ring or special item of jewellery. All you need to do is arrange for a free consultation...make a wish! and let us work our magic!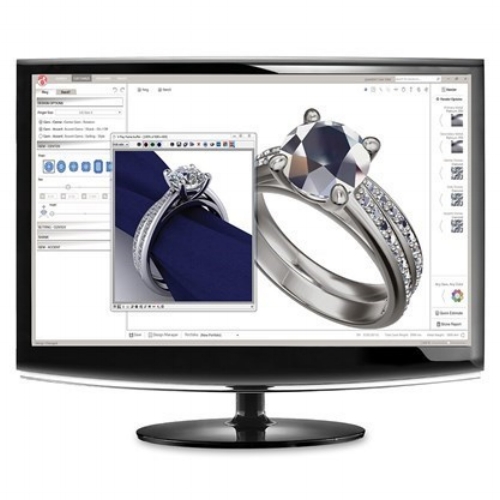 MAKE AN APPOINTMENT
Arrange your free private consultation with us today