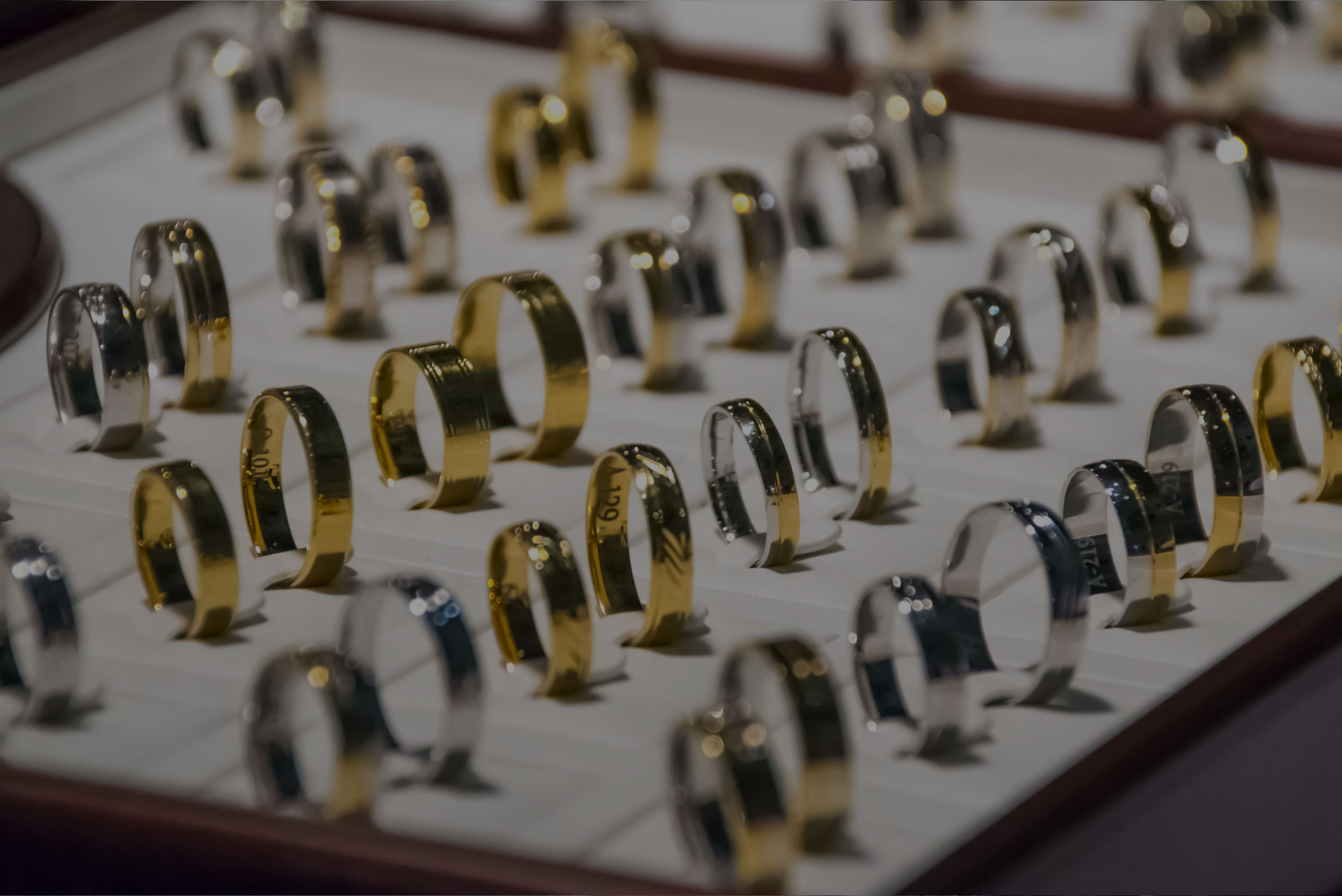 Ladies Wedding Rings
MICHAEL FRANK JEWELLERS DESIGN AND CREATE BESPOKE LADIES WEDDING RINGS. ARRANGE YOUR FREE PRIVATE CONSULTATION TODAY TO DISCUSS LADIES WEDDING RINGS.
Michael Frank Jewellers design and create bespoke ladies wedding rings. Arrange your free private consultation today to discuss ladies wedding rings.
A wedding ring is one of the most personal pieces of jewellery that a woman will ever own.
Bespoke wedding rings represent eternal love, and are a symbol of devotion and an agreement to have and to hold forever and always; they're also a reminder that there is no end when it comes to true love.
For this reason, it's understandable that finding the perfect bespoke ladies wedding ring to celebrate true love is no small task. Michael Frank Jewellers are proud to provide a bespoke service to create beautiful handmade wedding rings with a personal touch.
Wedding Rings for Women
Whether it's a modern couple searching for unusual wedding rings to capture their personality or are simply struggling to find designs that fit their personal story, the women's bespoke wedding ring service at Michael Frank is the perfect choice.
Michael Frank Jewellers in-house jewellery designers specialise in the creation of unique ladies wedding rings that reflect a couple's style and personality – ensuring that their past, present and future are brought together in one beautifully crafted design. Handmade in a London workshop, their bespoke wedding bands for women are perfect for celebrating love, memories and the future together. We understand the importance of creating a truly bespoke and beautiful wedding ring to reflect the important occasion.
Collaborative Design Process
Designing a ladies wedding ring at Michael Frank Jewellers is a simple collaborative process, where they transform ideas and thoughts into a final product.
The process will begin with an initial consultation with the design experts, where clients can express their likes, dislikes and thoughts to help bring the dream wedding ring to life. They will have the creative freedom to create a truly unique design; from choosing the preferred metal to the diamond selection.
From there, the design will come to life! Jewellery designers will ensure the couple are involved at every step of the journey.
Testimonials
Maria Parker

"Today I was looking for 2 lockets. I am a foster carer and two of the girls I have looked after for a year are moving back home today, I wanted to get them a special piece of jewellery and thought a locket would be a great keepsake. The lovely lady who was helping me worked to my budget and really went above and beyond! Thank you so much"
Pete Gearing

"I cannot thank you enough, having been very nervous about leaving my late grandfathers ring with you to be duplicated so that I can wear it everyday I was immediately put at ease with my consult with Michael, collecting the rings (Old & New) today I am amazed to see the craftsmanship and skill in bringing a very tired worn ring almost back from the past. I'm absolutely over the moon. Thank you so much."
Lara Colaco

"I just picked up my wedding ring and just wanted to let Michael know how beautiful I think it is and how much it compliments my engagement. I love it's the same width, the diamonds start and end perfectly to match my engagement, and we can see how much thought and time he put into a difficult shaped ring. Even in the box the shape looks like a heart, which is lovely! Can you pass this on, and we look forward to seeing Jason's!"
Margaret Casey Groves

"For our Grandaughters 18th Birthday we wanted to give her something very special,we visited Michael Frank Jewlers with a collection of my late mothers jewellery and had it transformed into a ring especially designed just for her ,it was very emotional handing the jewellery over but the outcome was truly amazing ,my granddaughters reaction was a memorable one and I know she will always treasure the gift .Thank you Michael Frank for your expertise your Staff are a true credit to you ."
Hannah Bakewell

"Massive massive thank you to everyone at Michael Franks! We got our wedding rings from you and from start to finish the service we received was amazing! Nothing was too much trouble and we love the rings! Would 1000% recommend these lovely people! Thank you again!"
Frequently Asked Questions
You have come to the right place as we specialise in bespoke engagement rings.
We can show you unset diamonds or gemstones based on your specification and the budget you have in mind. Or you can view rings that we have in our current range. We are also able to design rings individually for you based on your requirements.
Or we do have engagement rings available for immediate sale in our shop. We cannot provide prices for any item that is being made or designed over the telephone or by email as this is done by the jeweller on the day you come for a consultation, so that the price is accurate based on that days precious metal prices. All you need to do is book your FREE consultation with our jeweller by either filling in and submitting the consultation form or by telephoning our office on 01268 732083
Absolutely not! Consultations with our jeweller are FREE, they usually last about an hour and you are under no obligation to buy. They only thing we ask is that you do book an appointment.
If you do book an appointment and then can't make it we would ask that you do let us know either by telephone, email, or text message so that we can offer that day and time to someone else on our waiting list.
Yes we do! We specialise in bespoke wedding rings
Come and see us for a FREE consultation so that we can look at designs and give you an accurate quote at the time of your visit based on your requirements. If you are not sure what you are looking for we would still encourage you to come along for a consultation so that you can view our current range with the jeweller and try on lots of different options.
The length of time needed to make wedding rings for you depends on your requirements and what is actually needed. But as a very rough estimate you would be looking at approximately 10-12 weeks. However, this is a rough estimate and it could be quicker or longer. But we won't know that until we have spoken to you in depth at a consultation and get a really clear understanding of what you would like.
Did you know we also give couples FREE gifts when we make them two wedding bands? Which is our way of saying thank you. This includes:
3 Sterling silver pendants (for bridesmaids gifts)
Engraving inside each wedding band (this is optional).
Rhodium plating or polish of your engagement ring
An insurance valuation certificate for both of your rings.
A complimentary £50 gift voucher towards diamond earrings or an eternity ring at a later date.
Plus all of the wedding rings we make come with a Lifetime Manufacturing Warranty (Lifetime Manufacturing Warranty excludes accidental damage & general wear and tear)
Yes we do, we also refurbish antique jewellery. Please bring your item of jewellery into the shop so that a member of our staff team can have a look and tell you:
1) If that item can be safely repaired or refurbished
2) What we would need to do
3) If it needs to go to our workshop for a FREE estimate first
4) How much the repair would cost (if an estimate isn't required first)
Most of our repairs take place at our workshop so you will be advised of a timescale when you bring your item of jewellery in. If you choose to go ahead with the repair you will be given a receipt and then contacted when it is ready for collection. This process is the same for watch repairs and watch servicing. However, watch batteries can be carried out while you wait unless your watch requires resealing to ensure its waterproof. As this is also carried out at our workshop.
All repairs and watch servicing are covered by guarantee. Please contact us further if you would like more information about this.